Florida Title Pawn
It is unfortunate that we are unable to provide any locations in Florida to serve our customers there, but we can still make a title pawn to you! Do you have a car title? Do you have a Florida or Georgia driver's license? You're approved! In order to get the higest approval amounts, you'll want to also bring a paycheck stub and/or utility bill in your name, an extra key (we can have one made), and be sure to drive your car to our office in Valdosta.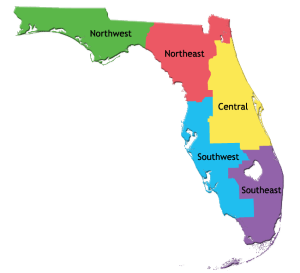 We understand if you're coming from north Florida, that it could be a long drive. We've have free coffee from a Keurig K-cup coffee maker, and we're right next door to a Subway sandwich shop. Mention that you read this page on our website and we will buy you a daily special meal with chips and a drink, completely free to you and on us, just for coming up here and giving us an opportunity to make you a title loan.
We highly recommend giving us a call at (229) 244-1419 and speaking with our manager, Devon. He'll make sure you have everything you need when leaving your home and give you a realistic expectation of how much you can borrow and what the terms will be, so that the process will go smooth and you won't have to make an extra trip. The entire process once you get here, from start to finish, should take less than 30 minutes.
Areas We Serve
This is definately not a comprehensive list, but we serve nearly all of the Northeast Florida region and some of the Northwest and Central Florida areas (like Jacksonville). Generally, the further we go from our office, the newer the vehicle should be in order for us to loan you larger amounts of money. Call us for details, we'll do everything we can to help you and loan you the most money possible. We serve:
Madison
Lake City
Jennings
White Springs
Live Oak
Jasper
Gainesville
Thank you, Florida!
We look forward to helping you borrow the money you need and get the treatment you deserve. Drive safe.