About Title Pawns in Georgia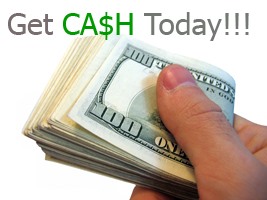 At Title Cash, we believe that the best consumer is an educated one. If you're reading this page, you're likely interested in learning more about how title pawns work. We're going to do our best to explain how our title pawn program works, with a focus on Georgia law and our own company policies, and also provide you with some additional links to read more on your own. If you have questions about how much money you can borrow and how the process will work for you specifically, give us a call at (229) 244-1419.
What is a Title Pawn?
In Georgia, a title pawn is a short term loan using your car, truck, van, SUV, or motorcycle title as collateral. Many people are unaware of the distinction between a loan and a pawn, and the legal definition of a pawn is a bit different than a loan (see Ga. Code §§ 44 - 12 - 130 et seq.). We will not be going into the semantic differences between them on this page, instead we'll focus on the overall process of getting and paying back a title pawn in Georgia. For more information on what a title pawn/loan is, in general, consider reading the Wikipedia page. For how what the title pawn process means to you, as a Georgia or Florida resident doing business with us, continue reading...
How Title Pawns Work
A title pawn is essentially a short-term, secured auto loan. Instead of a long-term loan repayment contract, a title pawn is due in 30 days. There will be a flat-fee of up to 25% interest for that period on the loan, and the loan can be extended for additional 30 day periods should the consumer and lender wish, until the loan is paid off. Unlike a traditional car loan, you are not obligated for any interest or fees beyond the 30 day period should you wish to payoff the loan on time. For example, if you borrow $150 on your car title, the fee/interest would be $37.50, and the payoff of the pawn 30 days later will be $187.50. Additional fees are never charged unless there is a lein fee to register the security interest with the state, and after 3 extensions, the interest rate will drop to 12.5%. There may be additional fees should the vehicle be repossessed for breach of contract. A title and a valid state issued ID is required. Title pawn companies are not loan companies, and do not advertise as such, though are often referred to interchangably as title pawns or title loans.
How Title Pawns Work at Title Cash
At title cash, everyone is approved! Well, as long as you have a car title and valid state issued driver's license (sometimes an ID is OK). We'll ask you to drive the vehicle to our office so we can provide a no-obligation quote, and it would be helpful if you brought proof of your address (i.e. utility bill) and income (i.e. paycheck stub), and a spare key (we can get one made for you, often for free, if you don't have one). We'll then tell you how much money we can lend you, and how much it will cost. You can pay us as little as the interest each month, and extend your loan for additional months as necessary to payoff your pawn. We can even provide you with a no-obligation payback guide should you want to know how long it would take to payoff your pawn with monthly payments.
We know that all of this information can be overwhelming, and we have greatly simplified how title pawns work to make it easier to understand. We recommend that if you are considering borrowing money with a title pawn, give us a call at (229) 244-1419 with whatever questions you may have. We'll do our best to make you feel comfortable, and we'll appreciate the opportunity to help you.